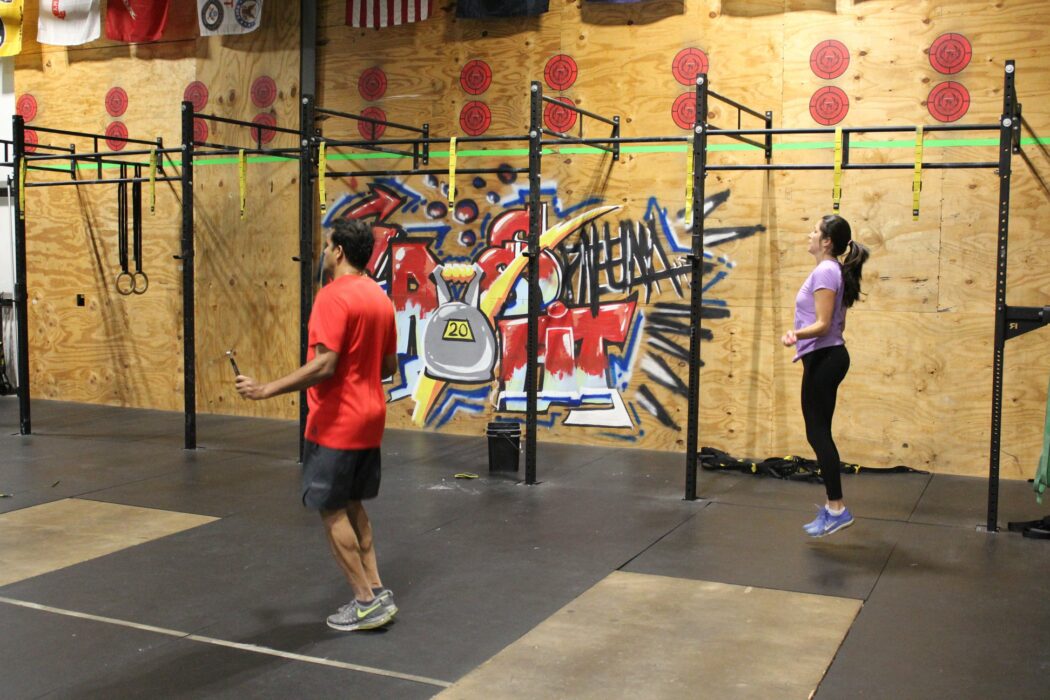 We are having a blast hosting ZOOM workouts at 6am, 9am and 5pm as announced. Its been SOOOO good seeing everyone and getting a chance to talk to you and coach you through spicy at-home workouts!
ZOOM Workouts include:
– Workout Brief
– Warm-Up
– Movement Demonstrations
– How to Modify
– Stimulus for the day
Metcon (Time)
10 DB Snatch
10 Sit Ups
10 Double-Unders
..
20 DB Snatch
20 Sit Ups
20 Double-Unders
..
30 DB Snatch
30 Sit Ups
30 Double-Unders
..
40 DB Snatch
40 Sit Ups
40 Double-Unders
..
50 DB Snatch
50 Sit Ups
50 Double-Unders
*The DB Snatch movement is from the HANG. Alternating each rep.
PART 1 – WARM UP (Using a stopwatch for :20 seconds)
3 ROUNDS
1. Toe Taps w/Dumbbell
2. Hop overs or Lateral Hops
3. Toe Touches
4. Inchworm Walks (NO Push-Up)
5. Mountain Climbers
6. Hollow Crunches
PART 2 – SKILL WARM UP
2 ROUNDS
1. Single Arm DB Deadlift x 5 reps (Left/Right)
2. Single Arm Hang High Elbow x 5 reps (Left/Right)
3. Single Arm Strict Overhead Press x 5 reps (Left/Right)
4. Single Arm DB Snatch – from the hang – x 5 reps (Left/Right)
STIMULUS & STRATEGY:
The mission today is to move well and move consistently well across all of our reps and movements for the day. Keep moving is our mindset. That doesn't mean, don't stop, it just means choose the RIGHT movement scale, choose the RIGHT loading and attack the workout with a pace that you can sustain for 15-19 minutes with minimal rest. A good strategy is to push on the DB Snatch, active recover on the sit-ups and then moderate pace on the jump rope.