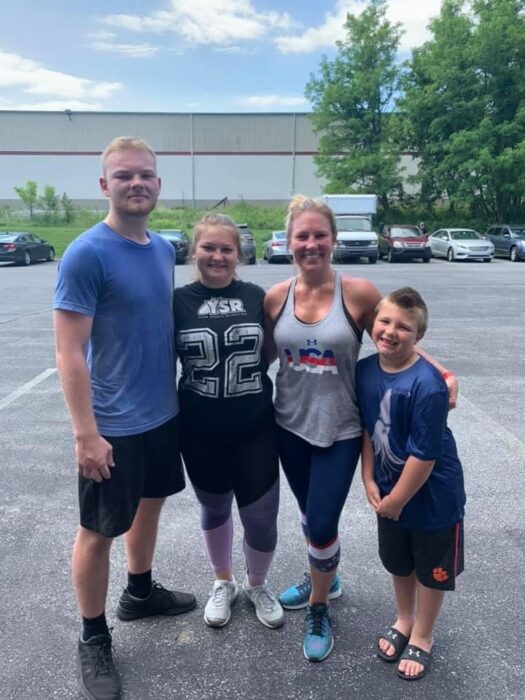 I have always been active, playing sports from a young age and competitively throughout high school and as an adult. Between college and age 36 I had three kids (when I was 25/27/28yrs) and continued to workout, in whatever way I could given the circumstances, but I never "trained" for anything. I was just getting in my hour a day for my personal sanity and to "stay fit". I was strong-ish but I really didn't have muscle definition and it wasn't something I thought about.
Fast forward to 2011 when I was 37 and had my last child… everything had changed and I KNEW I had to find something else to get my body back in shape. One day I stopped into a place called Synergy Fitness that I passed 10 times a day in my kid travels and met Justin. Things changed that day – he had energy and excitement and I saw the people in there working out that I knew would push me the way I needed.
I've spent the past 9 years with Justin and the community he's built, first as Synergy and now since 2012 as Crossfit Pneuma. The running/elliptical/machine lifting was ok…. but my journey immediately took a turn and escalated for the better with Justin at the helm of my daily routine.
I've gotten stronger/more defined physically, my overall health has changed and most importantly my mindset has been pushed to another level. Justin, the other coaches, and my workout peers have driven me through workouts and convinced me to compete in events that I hadn't even thought about attempting. And I've realized that your mind is what holds you back from pushing through the pain or when you think you just can't do anymore – not your body.
This strong, DO NOT QUIT, mindset carries me through my daily workouts, raising 4 kids, and dealing with a high stress environment at work. For me the gym isn't just a gym anymore. What CrossFit Pneuma gives me is a second family – coaches and fellow athletes who genuinely care about me and my family and my struggles. I turn to them for so many things – advice, a smile to start my day, a laugh to end my day, a text when they know I need it and overall they keep my desire high to continue to conquer my doubts and push to be the best I can be.
Thank you Justin and CFP for being such a huge part of my life for the past 9 years. Here's to many more years of suffering (in the best way possible) with all of you 😊